Missio Apostolica November 2014 - Individual Articles
Inside this Issue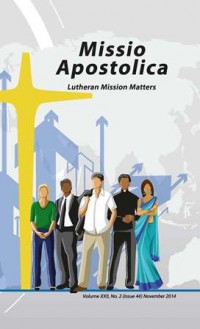 The contributors to this issue of Missio Apostolica present a wide array of subjects that pertain to the organic way in which the Gospel reaches out to people's hearts and how those who hear the message confess the faith in the one Lord Jesus Christ as they live and make a living in the places and locations God had allotted specifically for them on the face of the earth. At the cutting edge of mission and church planting, they are in different ways rediscovering and possibly returning to the first-century mission models, trying to emulate what the early apostles and evangelists were attempting as they were reaching out with the Gospel to peoples and communities existing outside their own socio-cultural and religious comfort zones.
Authors who understand Native American and Asian Indian cultures and religions speak as insiders on how the biblical message requires different ways of expressing the Gospel of salvation as it involves cultures that are saturated with a variety of religions and philosophies that do not directly coordinate with the biblical worldview. At the same time, some authors address the new and emerging challenges for the church's ministry and mission in North America, as in this historically famous sending place of Christian missions the Christian religion exists today as one of many choices in the marketplace of religions and its exclusive claims are constantly and intentionally attacked by the prevailing pluralism of religions.
Here we hear clearly from those who have served and continue to serve the Lutheran Church as missionaries, district presidents, mission executives, seminary professors, and researchers and learn from them new lessons on issues and questions that pose serious challenges to the status quo of traditionally established mission methods and the existing policies of some mission boards.
Mission society leaders' voices also represent numerous others like them whose missional directions conflict with the traditional institutional models although everyone in their heart desires to reach out to others in the name of the Gospel. Inside this issue of Missio Apostolica, numerous missional questions are posed before the reader to consider and reflect on for the sake of those who do not yet belong. The two guest editorials strongly suggest how missional institutional churches can become if only they returned to their own formative history and followed the vision their founding fathers had cast for the church.
As a living organism, the church of Jesus Christ in every age will always live in the world, confronting new challenges for mission and ministry. Yet Gospel proclamation will prevail incessantly counting on the promises of God who always remains a missionary God. Read along in prayer and in faith in the faithfulness of God.                                                                                                                                            V. R.
Please note that all articles posted on this website and downloadable in PDF format are
"Copyright 2016 Lutheran Society for Missiology. Used by permission."
Please include the above statement in any printed reproduction of an article.

Printed copies may be ordered online here.
Editorials
Modalities and Sodalities - Allan Buckman
Though unfamiliar to most Christians, even those within the mission community, these church/mission structures have been around a long time. Credit for the rediscovery of these helpful and dynamic concepts goes to Dr. Ralph Winter, who first drew attention to these realities in an address given to the All-Asia Mission consultation in Seoul, Korea in August 1973. A full blown treatment later appeared in Perspectives in the World Christian Movement, under the title, "The Two Structures of God's Redemptive Mission."
Observations of a District President Emeritus - by Jon Diefenthaler
"Thank God! At last we have a pastor! He will perform the marriage of our daughter, baptize our grandchildren, and be on our doorstep whenever we need him!" Such words are commonly heard when a pastor or seminary graduate accepts the call to one of our congregations. They also are sentiments that seem to me to be reinforced by the wording and spirit of the rites of Ordination and Installation that we tend to use in our churches, almost without exception.
Articles
Fresh Wineskins for Christ's Mission - Robert Newton
Abstract: Congregations and leaders in the Lutheran Church—Missouri Synod have been called into a new era of ministry, a missionary era. As a church rooted deeply in Northern Europe it enjoyed, until recently, the favor of America's dominant "White, Anglo - Saxon, Protestant" culture and structured its ministries accordingly. Those days are gone, that favor has waned, and many Christians find themselves underequipped and inadequately structured to proclaim the Gospel in their once churched America, now turned mission field. . .
The Expanding Edge of Mission: Missouri's (uneasy) Relationship with Mission Societies - James Tino
Abstract: Ralph Winter contends that there are two structures at work in the church, the sodality and the modality, and that both are necessary. Utilizing that framework, the development of the Lutheran Church—Missouri Synod is briefly examined, with special emphasis on the development of foreign missions. Today, LCMS sodalities play a vital role in the expansion of foreign mission. Although the LCMS prefers to operate from the modal perspective, her history demonstrates that Winter was correct: both sodal and modal structures are necessary.
Mission of Christ Network (A "New Kid on the Block") It's All about Intentional Gospel Proclamation! - Kermit W. (Butch) Almstedt
Abstract: The following article provides the reader with a glimpse into an exciting new, laity led, mission society—called Mission of Christ Network (or MCN)—that has but a single, yet critically important, purpose that is about intentional Gospel proclamation, under a long-term strategy of involvement with connection to local Christian worshipping communities. . .
Vulnerability in Mission - Rich Carter
Abstract: This article explores personal vulnerability in eight facets of human and mission life: spiritual, intellectual, occupational, physical, financial, social-interpersonal, sexual, and emotional. Professional readings and a number of missionary stories illustrate vulnerability in these facets. Confidence for the exploration comes from Christ's Gospel vulnerability for us.
Building Bridges: Toward Constructing a Christian Foundation for Inter-Religious Relationships in the Shift from Religious Privilege to Spiritual Plurality - Ken Chitwood
Abstract: Religious pluralism is a fact in an ever more globalized, individualized, and post-modern society. The reality of religious pluralism, and its attendant ideology of tolerance, presupposes a serious shift for the Christian Church from a position of privilege to one of marginality among many. It is necessary then that faithful, missional, Christians reconsider their foundational theology concerning other religions and worldviews and begin constructing a revitalized and benevolent approach to the "religious other."
Reaching Out to the Non-Baptized Believers: Missiological Implications from a Lutheran Perspective - Sam Thompson
Abstract: It is estimated that there are millions of non-baptized believers in India. This essay, drawing insights from Luther's understanding of sacraments, argues that sacraments as means of grace cannot be relegated to a secondary place. However, this zeal should also be matched by our efforts to take seriously the sociological and cultural struggles that these believers face because of their new faith. While challenging readers to explore theologically sound and missionally sensitive ways to reach out to the spiritual needs of these believers, this essay points out that the mission of the church should always be to go and serve people where they are.
Contextualizing the Faith in Amerindian Culture - John Babbitts
Abstract: Amerindian accounts of creation vary in their detail. Yet, a survey of the accounts reveals interesting similarities and possible opportunities to bridge between tribal traditions and biblical accounts. This article will survey the traditional stories of several Amerindian tribes in regard to creation accounts in order to identify insights and possible opportunities to communicate the Gospel using these accounts as a starting point.
The Korean Lutherans' Perspective of Lutheranism and Lutheran Identity - Jin-Seop Eom
Abstract: This paper is a revision of the paper originally delivered at the Lutheran World Federation's conference on Asian Lutheranism and Identity, Nov. 5–8, 2013, Kuala Lumpur, West Malaysia. It gives an account of how Lutherans in Korea understand their Reformation heritage and think of their Lutheran identity in an environment surrounded by other branches of Protestantism and Roman Catholicism as well as traditional religions. In so doing, it deals with some of the characteristic Lutheran teachings which the young Lutheran church can re-appropriate and with which it can contribute to the Korean Protestantism.
LCMS Missionaries and an Alien Indian Culture: A Gospel-Culture Engagement at the Margins of Indian Society - Stanish Stanley
Abstract: Does the Gospel message have within it the inherent potential to engage and transform a culture that seems to be alien and at odds with its worldview? A look into the early twentieth century history of the evangelizing efforts of LCMS missionaries in South India provides a glimpse into how the missionaries as the 'bearers of the Gospel" encountered a native culture at odds with the Biblical message and vision. . .
HMong Mission in LCMS - Kou Seying
Abstract: "HMong Mission in LCMS" was a paper written in 1998 for a course in the PhD in Missiology program. It is the first comprehensive analysis and well-documented studies of the first two decades of LCMS ministry among the HMong people in America. The paper captures both the ecclesiastical and theological developments of the initial decades. Concordia Historical Institute's subcommittee for ministry to minority groups in the U.S. comments in a November 1998 letter requesting to archive it, "The paper is an original and it is a necessary piece to fit into the total picture of the LCMS World Mission today."
Transformational Mission Work—A Definition - Paul Mueller
Abstract: Navigating collaborative relationships involved in effective and successful international church partnerships requires knowledge gained through study as well as experience learned through years of practice. This article attempts to define an appropriate approach to international partnerships and then identify some of the difficulties encountered as those partnerships are developed and maintained.