Lutheran Mission Matters Articles — May 2018
Inside this Issue: Confessing in Mission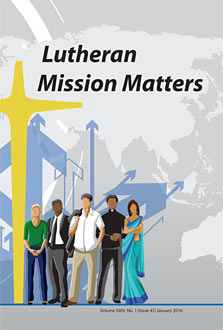 It has been said, and it is biblical, that people without a vision perish. Lutheran Mission Matters and its publisher, the Lutheran Society for Missiology, are the result of a godly vision that its founders received a quarter century ago. The Spirit of Lord set apart three Lutherans, Eugene Bunkowske, Robert Scudieri, and Paul Mueller to become innovators in the Lutheran Church—Missouri Synod, casting a vision for a Lutheran interpretation of Christian mission that would give birth to a society and a journal that would function as an international forum for the exchange of ideas and discussion of issues related to proclaiming the Gospel of Jesus Christ globally. Soon the society would develop various chapters, and the publications would enlarge to newsletters, mission observer notes, and significant books on mission.
---
Please note that all articles posted on this website and downloadable in PDF format are
"Copyright 2018 Lutheran Society for Missiology. Used by permission."
Please include the above statement in any printed reproduction of an article.


Rev. Dr. Eugene W. Bunkowske - 1935–2018
Dr. Eugene W. Bunkowske entered God's eternal kingdom on March 27, 2018, at age 82. He began his expatriate missionary service as a Bible translator in Nigeria and ended his Africa service as United Bible Societies' translation consultant for all Africa in 1982. He was then called to Concordia Theological Seminary, Ft. Wayne, where he served as Professor of Missions for twenty years. This was followed by service at Concordia University, St. Paul, MN, where he was instrumental in the development of the Master of Arts in Christian Outreach (MACO) program. He served several terms as a vice president of the Lutheran Church—Missouri Synod. He was a founding member of the Lutheran Society for Missiology.

(Photo courtesy of Paul Mueller collection)
Chief Eugene Bunkowske together with his son, Joel, and other chiefs of the Yala people.
Eugene W. Bunkowske: An Encomium - Paul Mueller
Writing a short tribute to Dr. B is an enormous task, for his influence in my life and the lives of hundreds of other missionaries simply cannot be encapsulated in a page or two of remembrances. But let me attempt the impossible.
I remember meeting Dr. B for the first time in 1985 when he had flown to Africa with a stopover in Liberia. We were celebrating the opening of an airfield upcountry in the Liberian bush. I was a brand-new missionary with my wife Joy and son Brandon. I had no idea what it meant to be an African missionary other than the basics—go tell people who didn't know Jesus about the Good News found in His life, death, and resurrection. I was beginning; I had much to learn. But Dr. B had already completed his twenty-two years of boots-on-the-ground African missionary work and was engaged in preparing the next generation of missionaries at Concordia Theological Seminary in Ft. Wayne, Indiana. Years later, at Dr. B's request, I was completing my doctoral work in missiology under his tutelage at the seminary and asked by him to serve as the first secretary of the LSFM at its charter meeting in 1991. Having served as his graduate assistant for two years, I was heading to my next role—following in the footsteps of my mentor and spiritual advisor Dr. B—to prepare the next generation of missionaries to follow after me.
Eugene Bunkowske—In Memoriam - Robert Scudieri
To say that Eugene Bunkowske was a giant in the field of Lutheran missiology would be to say what everyone already knows. Many of us got to know Gene as a missionary to Africa, or as the Translations Coordinator for the African Continent for the United Bible Societies, or for the twenty years he spent teaching communications and outreach at Concordia Theological Seminary in Fort Wayne, or as the Feichter Chair Professor at Concordia University, St. Paul, where he gave innumerable students a zeal for mission work. To appreciate him as the gift from God that he was, you had to know Gene as the humble, caring, courageous servant of Christ that he was.
Trends In Missiology Today - Eugene W. Bunkowske
Abstract: Dr. Bunkowske originally presented this paper at the inaugural banquet of the Lutheran Society for Missiology in Fort Wayne on October 20, 1992. In it, he discusses twelve trends that he sees as changes in the theology and practice of missions. He explains how changes in the cultures of countries that send missionaries (The West) and in countries that receive missionaries require a new way of thinking and acting. The world is no longer so unbalanced that the Western world can think of itself as the giver of Christian faith, and the rest of the world indebted to the churches of the West for this gift. Rather, it is necessary to recognize that the young churches meet the historic churches as equals, as brothers and sisters in Christ. Together, they share the same task and search for ways to communicate the Good News of Jesus with the world.
Articles
Recovering the Heart of Mission - Robert Newton
Abstract: The article is an expanded version of Robert Newton's address at the annual banquet of the Lutheran Society for Missiology in St. Louis on January 30, 2018. In this essay, Dr. Newton argues that the Lutheran Church has been blessed to live its entire history in the era of what is now called Christendom. During this period, the Church was always close to the centers of power, and the Church's voice was regarded as important in shaping society as well as expressing its hopes for the future. Now, the Church lives and works in the world after Christendom. The Church is losing its privileged place in society and finds that it must compete with other religions in contexts that are neutral at best and perhaps even hostile to the Christian faith. In this sense, the Church is returning to a lifestyle and a way of working that are like that of the Church in the first Christian century. The Church then was a persecuted minority that carried its message with authenticity and integrity into an unbelieving world. This is the task that Lutherans today must creatively address, discovering new ways of communicating by word and deed the message of God's salvation in Jesus.
View Online in English and Spanish
The Confessing Church: An Act of Excluding or the Art of Gathering? - Michael W. Newman
Abstract: Confessing. Ask a person on the street about confessing, and you'll very likely hear accounts of criminals admitting their guilt as detectives press them with evidence. Ask church adherents what it means, and they may describe humbling moments of acknowledging their sin in prayerful tones during worship or voicing one of the ecumenical creeds in the company of a Christian congregation.
Confessing Sin in Mission - Richard Carter
Abstract: In personal stories and professional studies, the author proposes attention to sin—its confession and absolution—as vital to confessing in mission. As suggested by the Ablaze! movement in The Lutheran Church—Missouri Synod and its global partners, there is an important place for appropriate leadership, planning, and administration in mission; but there needs to be space between evaluation/assessment and making new plans, space for recognition of sin in the assessment, and space for absolution to set free for mission. The David Kolb four-stage cycle for learning is adapted for engaging in mission, with the addition of that space for confession and absolution. The author invites the reader to reflect on places in her/his life where sin has impeded mission and to hear absolution for such sin. The last word, the first word in mission, is God's: You are forgiven.
Confession as Mission in a Secular Age - Gabe Kasper
Abstract: In his 2007 tome, A Secular Age, Canadian philosopher Charles Taylor asks the question, "Why was it virtually impossible not to believe in God in, say, 1500 in our Western society, while in 2000 many of us find this not only easy, but even inescapable?" With this question, Taylor taps into a mood of many in the Western world, in a time when unbelief is seen as the default position, even for believers.
How does the Church respond? As a confessing church body, the simple answer is to "be faithful to our confession." At face value this appears to be a fine answer. However, if the confession of the Church is misplaced, she can lose her mission. Consequently, the focus of this paper is to show that the truest confession of the Church demands a response of mission in our secular age. It will do this through understanding the secular age, refocusing the Church's confession, and articulating a way forward in mission in line with the truest confession of Christ's Church: Jesus Christ is Lord.
A Lutheran Perspective on the Influence of Life of Brainerd on the Church's Understanding of and Approach to Missions since Its Publication in the mid-Eighteenth Century - Vernon E. Wendt Jr.
Abstract: The popularity of David Brainerd's personal journal, published by Jonathan Edwards in the mid-eighteenth century, greatly influenced the revivalistic understanding of and approach to Christian missions. We can only imagine how the history of missions for the past several centuries might have been different had a journal as influential as Life of Brainerd been published at the same time, portraying a missionary faithfully proclaiming the Gospel message in all its truth and purity and rightfully administrating the sacraments, instead of adhering to the principles of Jonathan Edwards' theology.
Cultivating a New Perspective on Unity in Worship Practices - Laura M. Pulliam
Abstract: Confessions are crafted over time. Time itself can serve as a sieve through which poor theology is purified. Therefore our confessions of faith, crafted over time and carefully laid out in the Book of Concord, are the highest quality tools for mission available to us. As with most tools, however, utility is dependent on the user, not the object itself. How do we practically utilize confessions in such a way that we do not have to first convert someone to our culture before they are converted to Christ? In recent years, the confessions of the Lutheran Church—Missouri Synod (LCMS) have more often been used as a hammer for proving a point than as a spoon for delivering the Gospel. What the LCMS desperately needs, possibly more than ever, is some discussion on the practical use of this tool, particularly in worship practices. The Early Church provides a helpful framework for how we might handle these discussions.
Inbox
Confessing the One True God in the Context of Public Interreligious Events - David O. Berger
Editor's Note: This article is revised and adapted from Concordia Journal, 30, no. 3 (July 2004): 118–121.
In the polytheistic arena of an increasingly "small world," for a Christian invited to participate with representatives of non-Christian religions in public religious events, the issues are primarily scriptural and secondarily practical. The hazards, far outweighing any expectations of effective Christian confession or proclamation of the Gospel, justify—even demand—an explained absence.
Response:
Witness in the Marketplace of Religions: An Opportunity to Be Seized - Daniel L. Mattson
David Berger's article, "Confessing the One True God in the Context of Public Interreligious Events" raises important issues about opportunities for witness to the One True God in the context of "public interreligious events." Since my own ideas are somewhat different and we are both members of the Lutheran Mission Matters editorial committee, I want to thank him for giving me the opportunity to share my views.
My concern takes seriously the last phrase of the article title, "public interreligious events," and that phrase sets the tone for this article. The time is very likely coming when Christian faith will have no privilege in American society, and all our public witnessing will be done in a context where all religions and spiritualities are regarded as equally valid. Christians will need to bear witness in a truly free-marketplace of religions.
View Entire Inbox and Response Online
Encountering Mission
Applying the Great Commission - Derrick Miliner
Abstract: Applying the Great Commission has always been a challenge for some churches. In my twenty-nine years of working in the Church, I have seen the Church struggle with applying the words of Christ "go into all nations." I think we are selective in the nations we go into. In this article, I discuss a simple way to apply the Great Commission. From my perspective in this article, Jesus said to make it as simple as He initially sent the disciples with nothing in their hands; just faith in Him. I, too, think we should have faith and go, close to our churches. Stop passing our close neighbors to reach the perfect neighbor.
Confessing the Faith in Print: From Mongolia to the Muslim Diaspora and Beyond - Matthew Heise
Abstract: Lutheran missions have a great deal to offer seekers in this smaller, global world, where borders have shrunk, and formerly exotic lands like Mongolia are more readily accessible to the Gospel. Whether followers of shamanism, Islam, or tribal religions, more and more non-Christians are coming to the faith through the spoken and read Gospel. I offer some thoughts on encounters I have had with these seekers from my service with LCMS World Mission and now as executive director of the Lutheran Heritage Foundation.