Lutheran Mission Matters Articles — May 2017
Inside this Issue: Contextualization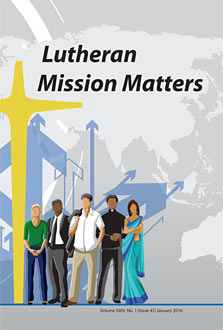 God's mission matters for Lutherans who see Him opening doors for all His children to witness the message of salvation throughout the world, God at work transforming the lives of those who are touched by the Gospel. The Creator's Word, incarnate in Jesus Christ, brings life in its fullness to everyone who believes in Him as Savior and Lord. Today's Christians free themselves from their socio-cultural and political ghettos so they can interact boldly with a world threatened on every side by forces of evil and decay and can witness the power of God in Christ, who recreates them.
The world has contracted into a global village, not only in politics and business but even more so in the spheres of religion, family, and interpersonal relationships. Companies make international travel and tourism affordable for everyone who plans ahead for a time to relax and unwind. Not only from St. Louis to Chicago, but also from Thiruvananthapuram to Mumbai, business women and men commute to their daily work. About the Lord's business, however, Christian missionaries and Christian people cannot simply be tourists and commuters. Missional partnership is not a business-type deal. Missionaries reside in the mission field, keeping in step with the Lord who put on human flesh and took His residence among ordinary people with whom He lived, suffered, died, and rose again. Missionary life is costly and literally not-for-profit, but for the Gospel's sake.
Healthy missional conversations tackle issues and concerns relative to communicating the Gospel across cultures with honesty and integrity. Such engagement does not extricate indigenous communities from their natural environment, but gives them a place at the table where they are treated with integrity and respect. Each edition of Lutheran Mission Matters strives to address such settings with encouragement and support.
This issue presents a variety of points of view internationally and cross-culturally on the matter of contextualization. The authors include Lutheran missionaries who serve at the grassroots nationally and worldwide. These writers are well-experienced theological educators, mission executives, area directors, and mission historians. Rarely does a journal like this enjoy the privilege of presenting Lutheran theologians from Ethiopia, India, Japan, and Vietnam—all in one issue.
An added special feature in this issue is a rather lengthy article by President Emeritus Rev. Dr. Gerald B. Kieschnick who has written a critical reflection on the state of the Lutheran Church—Missouri Synod. From his hands-on experience as a pastor, District President, and Synodical President, Kieschnick discusses the primary challenge facing Lutherans today, the transition from a heterodox Christian culture to a culture that is indifferent or even hostile to Christianity.
On this 500th anniversary of the Reformation, this journal presents Professor Enoch Wan's essay on "Quincentennial Celebration: The Paradigm Shift from Martin Luther Then to Ours Now." A non-Lutheran, Professor Wan is Director of the Intercultural Studies Program at Western Seminary in Portland. This is Part One of the essay Wan presented at Concordia Seminary's Ninth Multiethnic Symposium in January of this year. The second part will appear in the November issue. A response from Paul Mueller, a former Lutheran Church—Missouri Synod missionary and mission exec and professor of missions at Concordia University Portland, follows Wan's paper.
The Gospel transforms and empowers people of all cultures. Lutheran Mission Matters adds a Lutheran voice in celebration of that transformation.
Victor Raj
Editor
Lutheran Mission Matters
Please note that all articles posted on this website and downloadable in PDF format are
"Copyright 2017 Lutheran Society for Missiology. Used by permission."
Please include the above statement in any printed reproduction of an article.


Articles
Missiology of Recontextualization - Victor Raj
Abstract: Gospel proclamation is a privilege God has invested in His Church. Missionaries, pastors, and evangelists must be competent communicators of the one true Gospel that makes all people wise unto salvation. Interconnectedness and interdependency have become normative in today's global culture. Mission agencies and mission partners cannot plead exemption to this norm as they serve as God's missionaries, together. Disengaging Christians from their traditional culture and requiring them to follow traditions and practices that are foreign to them in the name of theology is detrimental to their organic growth and self-sustainability. This essay argues that Christian witnessing is a joint endeavor that requires the speaker to interact with the listener with gentleness and respect. Thinking recontextualization facilitates this process for the good of the church and its service to the world.
Demography and Mission in the LCMS: A Response to Journal of Lutheran Mission, December 2016 - William W. Schumacher
Abstract: This essay offers both methodological and missiological responses to demographic studies published in the December 2016 issue of the Journal of Lutheran Mission. Central to those studies was the correlation between membership in The Lutheran Church—Missouri Synod (LCMS) and birth rates among white Americans, both to explain declining LCMS membership and as the basis for "pronatalist" recommendations to reverse that trend. But the correlation deserves to be scrutinized, and the arguments proposed must be examined critically. In particular, LCMS choices and policies about mission must focus on seeking and saving the lost, not on denominational survival.
Quo Vadis, LCMS? Wine Women Worship Witness Warfare - Gerald B. Kieschnick
Abstract: During the past 53 years, I've served The Lutheran Church—Missouri Synod as elementary school teacher, vicar, pastor, mission developer, development officer, foundation chief executive, district president, and national president. Those responsibilities have brought joy, fulfillment, frustration, and disappointment.
Throughout those years, I've experienced the strength, beauty, and weakness of our church body. In this article I share, from my heart, my perspectives on matters that hinder the health and growth of our beloved synod. I pray this offering will stimulate healthy, responsible, evangelical conversation among us, to the glory of God and the building of His Church on earth.
The Dubious History of "Contextualization" and the Cautious Case for its Continued Use - Glenn K. Fluegge
Abstract: Technology is reshaping our individual human experience and wider society on a near daily basis. An interesting, and useful, source through which we can examine these changes is Marshall McLuhan. In particular, his famous phrases "The Medium is the Message" and "The Global Village" can illuminate both our inseparability from technology alongside the deep extent to which various technologies shape us and our world far more than we often realize. The gift of this point of view is a deeper awareness of pervasiveness and ongoing influence of technology, which raises many dangers, challenges, and opportunities for the Church.
Quincentennial Celebration: The Paradigm Shift from Martin Luther Then to Ours Now—Part One - Enoch Wan
Abstract:Historical review of the paradigm shift of Martin Luther occurred five hundred years ago, followed by a personal proposal to the leadership of Lutheran church bodies in North America in the twenty-first century for a contextual paradigm shift, based on three selected global trends (i.e. the shifting landscape of Christendom, the phenomenon of diaspora, the rise of socio-cultural relativism which includes postmodernist epistemology, religious, ethical, and cultural pluralism), leading to the embrace of new paradigms (i.e. multiethnic ecclesiology and strategic Kingdom partnership, diaspora missiology, and relational realism).
Multiethnic Ministry: Some Obstacles and Insights to Overcoming Them - Paul Mueller
Abstract: Both missionary ministry and academic studies help identify barriers as well as bridges as cultures begin to live side-by-side. There are notable organizational as well as cultural and heart barriers which hinder robust partnerships between ethnic groups in the United States and established faith communities with whom connections are made. Some of these may be easily resolved. Others present significant challenges and subsequently require significant change.
God of the "In Between" in Humanity, Space, and Time in Japan - Roger W. Lowther
Abstract: The Apostle John tells us, "I looked, and there before me was a great multitude that no one could count, from every nation, tribe, people and language, standing before the throne and before the Lamb" (Rev 7:9). In heaven and on earth, we find people from every language and culture. These cultural differences give insights into the essence of the Gospel and the person of Christ. The short meditation that follows explores some of those insights through the Japanese concept of "ma" (in between) as found in the Japanese concepts of humanity, space, and time.
The Spirituality of Atheism - Armand J. Boehme
Abstract: An increasing number of people today are saying they are spiritual but not religious. Many new spiritualities have surfaced including atheistic spirituality. Atheists have developed their own creed, Sunday gatherings, Sunday Schools, chaplains, devotional books, Bibles, ethics, Ten Commandments, summer camps, and weddings and funeral services. This raises the question as to whether atheism has become a non-theistic religion like Buddhism Taoism and the Raelians. The American legal system has recognized atheism as a religion. Parallels to attempts at secular religions are also explored, as are ways in which Christians can respond to the increasing secularism of the age.
Saccidananda and the Trinity: Hindu-Christian Conversations on the Supreme Reality - Sam Thompson
Abstract: In a religiously plural world, building bridges with our neighbors belonging to different faiths is a desirable task. Such an effort often requires us to make an earnest effort to understand our neighbor's worldview and religious faith. To a Lutheran whose worldview shaped by Luther's two realm perspective, such knowledge is beneficial in living out our calling in both realms of life. The effort taken in this essay is to explore into the Hindu understanding of God as Saccidananda in relation to the Christian understanding of God as Trinity. This essay suggests that, although both those concepts of supreme reality emerge to be fundamentally different, they could provide a common ground for a Hindu and a Christian to engage in conversation.
Reading the History of MELIM (the Missouri Evangelical Lutheran India Mission) in Context 120 Years Later - Joseph Rittmann
Abstract: Archival research on MELIM (Missouri Evangelical Lutheran India Mission) invites contextual reading on the co-religions of Hinduism, Islam, and Christianity, on the social situation of outcaste or pariahs of whom MELIM reached most of its followers, and the political transition from nineteenth- to mid-twentieth-century colonial and monarchial rule of subjects to the governance of citizens post Independence in 1947. How MELIM advanced God's Mission in this context from 1895 amidst human rights, information diffusion, and identity politics, stems from the prior 190 years of Danish and German Pietist Lutheran mission which started in Tranquebar in 1706.
Church and Development in Ethiopia: The Contribution of Gudina Tumsa's Holistic Theology - Samuel Yonas Deressa
Abstract: There has been much debate in the church over the relationship between evangelism and development. In past decades, the involvement of the church in God's mission has been defined with emphasis on either evangelism or development. The church, however, is called to participate in God's ongoing creative work of nurturing the whole aspect of life (physical and spiritual) without separation. This article explores the challenges to the holistic understanding of mission in the Ethiopian context and attempts to show the contribution of Gudina Tumsa's holistic theology in the context of the ministry of the Lutheran church in Ethiopia. The two challenges explored are the Western missions' emphasis on development and Pentecostal teaching that downplays the public role of the church.
Encountering Mission
Paul's Greatest Missionary Sermon: A Lesson in Contextualization from Acts 17 - James Tino
Abstract: What is "contextualization"? Is it really necessary? Is it a biblical concept or an unwanted invasion of social science into the territory of Gospel proclamation? This article explores the concept of contextualization by looking at the example of the apostle Paul, specifically at his sermon in Athens (Acts 17). Contextualization is compared to translation with an emphasis on how meaning is communicated. We are challenged to consider what we really mean by "Gospel proclamation" and how the Gospel communicator may begin the task of bringing God's Good News to people of other cultures.
Is Contextualization a Bad Word in the Mission Field? - Tom Park
Abstract: Many scholars have different ideas about contextualization. That sophisticated sounding word brings with it unintended meanings which can be perceived both positively and negatively. Is contextualization a bad word in the mission field? The author will look at this word through his experience working with the Hmong and others of different social and economic background as a pastor.
As a Korean Lutheran pastor, contextualization has played an important part in the mission work among the Hmong and university students. Does contextualization have to be reevaluated? The author believes that missionaries, pastors, DCEs, DCOs, and laypeople need to revisit and (re)define what contextualization is. In order to reach out to people of other cultures, one is faced with the difficult decision and dilemma to distinguish what is cultural and what is theological. This article will highlight the necessity of the critical contextualization.
Sermon: The Father's Heart — Todd Jones
Introduction: Professor Todd Jones grew up in the Dallas area where he was first challenged with the Father's love for His lost children through the preaching of pastor Stephen Wagner. He has been involved in evangelism and outreach since he was fourteen years old. He graduated from St. John's College in 1985 and received his first call in to the parish ministry from Concordia Seminary St. Louis in 1989. God has blessed him with opportunities to revitalize congregations, participate in the church planting process, in the U.S. and overseas. He is currently a faculty member of Concordia Seminary, St. Louis, MO where he teaches in the practical department and is the Director of the Resident Field Education Program. This is a chapel sermon preached on April 8, 2017.